Harrigan Centennial Hall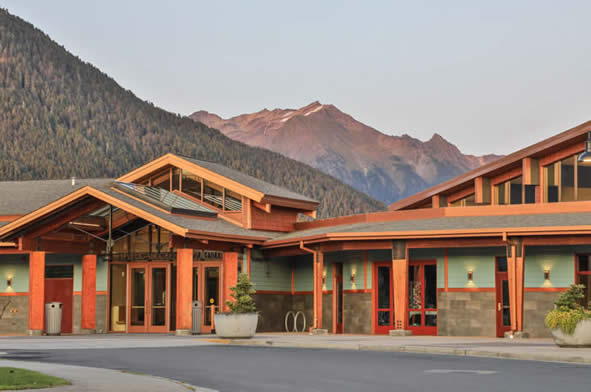 Offering the Best of Alaskan Hospitality
Harrigan Centennial Hall, located oceanfront in downtown Sitka, Alaska is an 32,000 sq. ft. Civic, Convention, and Visitor Center.  Our staff is trained and experienced in hosting events from the planning stage to completion: Conventions, Symposiums, Conferences, Seminars, Tradeshows, Exhibits, and Meetings.  We have an audiovisual department with wireless Internet throughout, teleconference equipment, and multimedia projectors. Our commercial, on-site kitchen is available for independent caterers to use for all events.  
Our facility is also located with a breathtaking view of nearby mountains.  In addition to offering free all-day parking; we are located conveniently close to downtown, hotel/motel accommodations, restaurants, shopping and entertainment. Our facility is also home to the Sitka Summer Music Festival, Winter Gala and the Sitka Wearable Arts Show.
HCH also houses the Sitka History Museum. For museum information you can visit the Museum's site here or contact the Sitka Historical Society at 907-738-3766.
Sitka offers a once-in-a-lifetime chance to immerse your group in a multi-cultural experience (Tlingit, Russian, and American). With unparalleled coastal views and snow capped mountains, our facility is one of a kind. 
Harrigan Centennial Hall Site Map
 
Click here to see the Harrigan Centennial Hall Policy Manual.
Click here or on the link above to view the presentation that was presented by the Design Architect, McCool Carlson Green, to the Assembly during the April 14, 2015 work session.
We're on Facebook!  To visit the page click on the icon and don't forget...  
Helpful Information
Helpful Links