The purpose of the Sustainability Commission is to work towards catalyzing a healthy community now and in the future by proposing solutions to environmental, social, and economic concerns of the City and Borough of Sitka, its partners, and community members. (SGC 2.15)
Download the Roster of Members (PDF). Download the Bylaws (PDF) (Adopted November 14, 2022, amended February 7, 2023).
---
Upcoming Meetings
The Sustainability Commission meets on the first Tuesday of each month at 6:00 PM at Harrigan Centennial Hall. 
Sustainability Commission Work Session
Tuesday, December 5th at 6:00 PM
Harrigan Centennial Hall  
Sustainability Commission Regular Meeting
Tuesday, December 5th at 7:00 PM
Harrigan Centennial Hall
Agenda items are forthcoming.
---
---
Upcoming Events
 The Sustainability Commission's Ginger-Build!
Monday, December 4th at 5:30 PM in Harrigan Centennial Hall
Please RSVP HERE by November 30th!
Meet the energy experts helping create the Sitka Community Renewable Energy Strategy (SCRES)
Make the most energy-efficient gingerbread house and display it at City Hall!
Learn about other ways you can save energy in your home!
Help the Commission create the SCRES!
Questions? Email sustainability@cityofsitka.org or call (907) 747-1856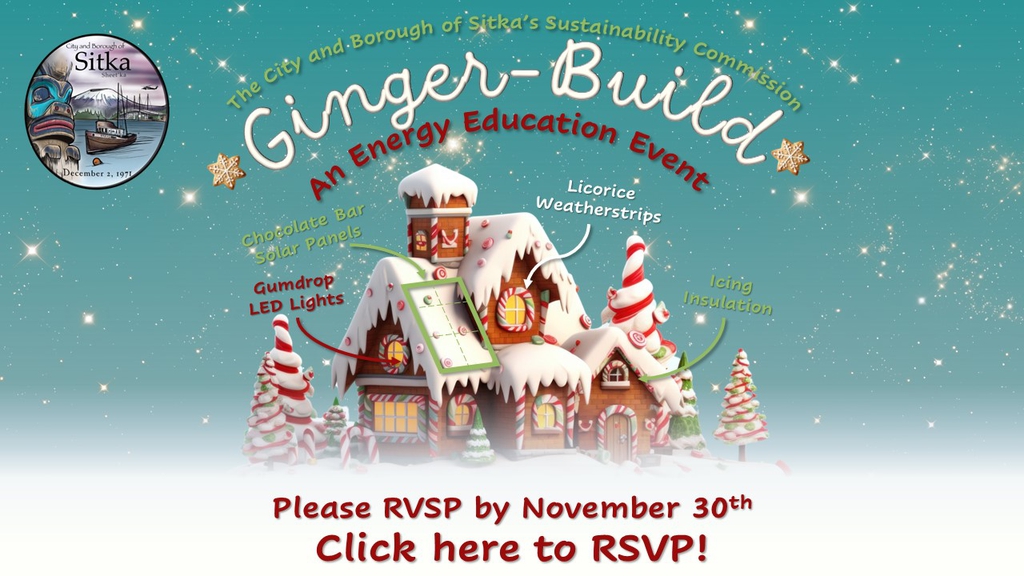 ---



2023-2024 Work Plan
On March 28th, 2023 the Sitka Assembly approved the Sustainability Commission's goals outlined in their 2023-2024 work plan. Goals include:

Develop a Community Renewable Energy Strategy
Analyze Opportunities for Diversion of Municipal Solid Waste
Create a Municipal Fleet Transition & Electric Vehicle Infrastructure Plan



---
Meeting Minutes

Meeting Packets

October 16, 2023 

(PDF)
September 5, 2023 (PDF)
August 1, 2023 (PDF)
July 4, 2023 - No meeting
June 6, 2023 (PDF)


May 2, 2023

 (PDF)




April 4, 2023

 (PDF)
March 7, 2023 (PDF)
February 7, 2023 (PDF)


January 9, 2023 

(PDF)


December 12, 2022 (PDF)
November 14, 2022 (PDF)



November 7, 2023

(PDF)




October 16, 2023

 (PDF)




September 5, 2023

 (PDF)
August 1, 2023

 (PDF)




July 4, 2023 - No meeting


June 6, 2023 (PDF)
May 2, 2023 (PDF)
April 4, 2023 (PDF)
March 7, 2023 (PDF)


February 7, 2023 

(PDF)




January 9, 2023 

(PDF)
December 12, 2022 (PDF)
November 14, 2022 (PDF)
---
Sustainability Library
City Actions
Ordinance 2022-16S: Sustainability Commission Establishing Ordinance (PDF)
Resolution 2022-18: Municipal Operations Decarbonization Resolution (PDF)
Clean Energy
 2021 Sitka Energy Initiative Partnership Project (ETIPP) Renewable Final Report (PDF)
Sitka's Energy Transition Journey (YouTube, 7:30)
Energy Transition Initiative Partnership Project (ETIPP) Presentation
Presentation recording (YouTube, 8:00 - 35:00) | Presentation Slides (PDF) 
Climate Action
Climate Action Task Force Final Report (PDF)
2022 Climate Action Task Force Priorities List (PDF)
2010 Climate Action Plan (PDF) Heard but not adopted
2008 CBS Greenhouse Gas Inventory Report (PDF)
Solid Waste
2014 Interim Solid Waste Management Plan (PDF)
2007 Recycling in Sitka (PDF)
Long-Term Planning
2022-2027 Sitka Strategic Plan  (PDF)
2030 Sitka Comprehensive Plan (PDF)
---
Useful Links and Resources