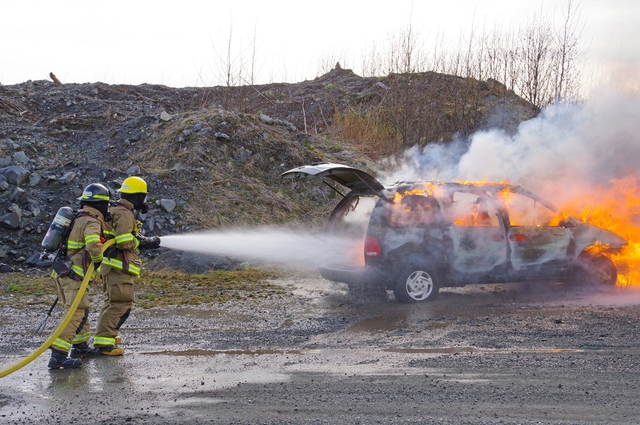 The Fire Division of the Sitka Fire Department consists of approximately 15 active volunteer firefighters. The division responds to an average of 200 calls per year and employs a philosophy of fast, aggressive attacks while maintaining the highest levels of safety. The Sitka Fire Dept. paid staff, staff the station 24 hours a day, when an alarm is received, they respond with appropriate apparatus. Firefighters respond directly to the scene, as they carry their issued bunking gear in their personal vehicles. Because of this configuration, Sitka is able to have extremely quick response times to all incidents.

The fire division is divided into two companies. A volunteer Captain and two volunteer Lieutenants manage the division under the direct supervision of the Chief and Asst. Chief. Training is held the first and second Wednesday of every month with additional specialized training opportunities often available at least one Saturday or Sunday monthly. Multi-agency trainings are also held with agencies such as the Alaska Department of Transportation, USCG and the U.S. Forest Service. The division members attend classes, offered around the state, put on by the State of Alaska Fire Training Services. In addition, the division routinely takes advantage of other national training and conference opportunities. Current certifications held by men and women of the fire division include: Firefighter I, Firefighter II, Rapid Intervention Technician (RIT), HazMat Technician, and Fire Instructor I and II.
The division offers services in structural and wild land fire suppression, fire prevention, vehicle extrication, hazardous materials response, and confined space rescue. The fire division often assists the other three divisions of the Sitka Fire Department, and is able to call on these divisions for help when necessary.
The fire division welcomes any persons interested in becoming a firefighter, and encourages them to stop by the Sitka Fire Department to pick up an application. No previous experience is necessary, as training is provided after becoming a member of the Sitka Fire Department.