Public Works

Mission Statement
The mission of the City and Borough of Sitka Public Works Department is to provide, control, and maintain reliable and cost-effective public works facilities and systems in a manner that emphasizes customer satisfaction, public service, and the long-term best interest of the community.
Vision Statement
"The Department will strive to enhance Sitka's quality of life, and through sound management, innovation, teamwork and vision, provide dependable, high quality, responsive public works and utilities services, consistent with community values and at reasonable costs to Sitka's citizens, businesses, institutions, and visitors."
City Clean-Up dates for 2023.  2023 City Clean-Up Flyer.pdf
Public Works Assembly Update    2023 March Assembly Update Report PDF.pdf
New Citizen Web Request Form - Our apologies, this system is broken and we are working on getting it up and running. Please reach out to staff at 907-747-1804 or email publicworks@cityofsitka.org for assistance. 
FEMA Flood Insurance Rate Map (FIRM) update
2010/2019 map comparison:
The Public Works Department has created an interactive map that exhibits changes from the currently adopted 2010 FIRM when compared to the updated 2019 FIRM, this interactive map is accessible at this link: FEMA Flood Map Comparison
Tips for using this interactive map:
This map functions optimally when using the Google Chrome browser.

The blue "comparison slider" circle and white vertical lines attached to it defines the border between the two separate maps and can be dragged right and left to better view the differences between the separate maps.

The 2010 FIRM is shown on the left-hand side of the screen, the 2019 FIRM on the right.

Use your mouse wheel or keyboard function to zoom in and out, click and drag the screen to navigate around Sitka.

Additional details (structures, street names, address numbers) become visible as  you zoom in on a specific location (Baranof and Japonski Islands only).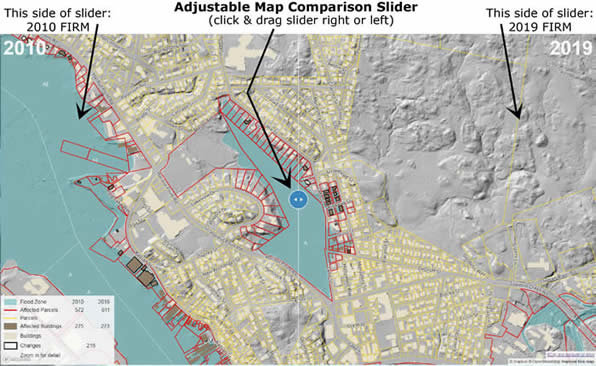 Call (907)747-1804 for assistance utilizing this map, if needed.
CBS 2002 Standard Specifications:
Street - Drainage - Utilities - Parks
Links