Sitka Seawalk Phase II Project
Project Description
The Alaska Department of Transportation and Public Facilities (DOT&PF), in coordination with the City and Borough of Sitka (CBS) and with support of the project from the National Park Service, is proposing to improve accessibility to the Sitka National Historical Park (SNHP) and downtown Sitka by constructing a Seawalk. The Sitka Seawalk Phase II project would also function as a wayfinding system and guide for visitor traffic and simultaneously provide opportunities for exercise and recreation.   
The development of the Sitka Seawalk has been divided into two separate phases. Phase I of the Seawalk was completed in 2013 and extends from the SNHP boundary to the Harrigan Centennial Hall Visitor Center and the Sitka Public Library. Phase II would continue the Seawalk from the Sitka Public Library to the O'Connell Lightering Facility and on to Totem Square and Lincoln Street while maintaining the "look and feel" of Phase 1 and improving ADA accessibility of the existing facilities.
 As shown on the project diagram below, Phase II has been broken down into three distinct sections. Sections 1 and 3 include improvements along existing sidewalks. Section 2 includes a new pedestrian pathway on top of a new riprap armored embankment extending around the south side (seaward side) of the O'Connell Bridge/Harbor Drive approach to the O'Connell Lightering Facility.  Preliminary Plans for all three sections can be downloaded at the 05. 10.21.2022.Seawalk.Phase.2.Prelim.Design.Plans link below. 
Sitka Seawalk Phase II
Figure 1: General Project Area and Approximate Alignment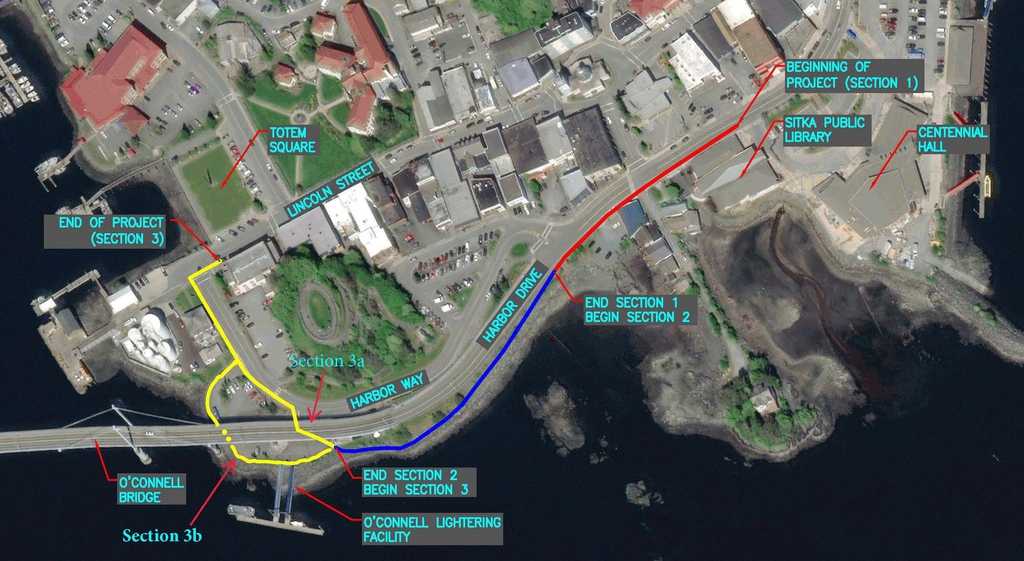 *Section 3B (Previously labeled Section 3 Alternative)
*The word "Alternative" is being replaced within the project materials using the terminology Routes 3a and 3b to allow public input for the two options being considered for Section 3 under the O'Connell Bridge as required under the NEPA process.
Based on current funding agreements, Section 2 will be constructed first.  Section 1 and Section 3 would be constructed when additional funding is obtained. The environmental process (NEPA) will include all three Sections. 
Final design, permitting, and construction documents for Section 2 will be initiated after the environmental document is obtained for all three sections.   
The environmental review, consultation, and other actions required by applicable Federal environmental laws for this project are being, or have been, carried out by DOT&PF pursuant to 23 U.S.C. 327 and a Memorandum of Understanding between the Federal Highway Administration (FHWA) and the State of Alaska (DOT&PF) executed November 3, 2017, by FHWA and DOT&PF.
PUBLIC MEETING:
Click the link, https://youtu.be/3m5O1-9hB4o to view the Sitka Seawalk Phase II Public Meeting held November 30, 2022, for the Project Preliminary Design and Environmental Scoping.
Comment Collector - Provide Your Input
Preliminary design and engineering (scoping) has been completed and these documents will be/were presented at the November 30th scoping meeting or can be found on the project website. Please review these prior to providing comments. Based on the project scoping documents, please provide comments related to the Phase 2 project. Comments will be collected and made part of the project scoping document and made public; so let us know if you would like your name associated with your comment or not.  If you wish your name to be omitted, we will label it as "name withheld".
Seawalk Related Sitka Planning Studies:
1997 Gateway Community Planning CBS _ SNHP.pdf 
2002 NonMotorTransPcompletefile.pdf 
2007 CBS Comprehensive Plan.pdf  2007 Sitka Visitor Industry Plan.1.pdf 
2007 Sitka Visitor Industry Plan.1.pdf 
2007 Sitka Visitor Industry Plan.2.pdf 
2010 Pass. Fee Implementation Plan MRV Jones _ Jones.pdf 
2012 Sitka_Outdoor_Rec_Action_Plan_FINAL_1-2-13_all-appendices.pdf 
2014 AK Access Program Proposal FINALSea walk.pdf 
2020.Seawalk.2 Scoping Report.pdf 
2020.UPDATED.Seawalk.2 Scoping Report.pdf 
2021.Federal Lands Access Program Sitka Seawalk Phase II Memorandum of Agreement (MOA).pdf 
For more information about the Sitka Seawalk Phase II, download files at the links below (documents listed in chronological order):
01. 1.23.2020.Seawalk.2 Scoping Report.pdf 
02. 9.24.2020.UPDATED.Seawalk.2 Scoping Report.pdf 
03. 7.28.2021.Federal Lands Access Program Sitka Seawalk Phase II Memorandum of Agreement (MOA).pdf 
04. 9.13.2022.Sitka.Seawalk.Phase II.Tier 1 Eelgrass Delineation Report.pdf 
05. 10.21.2022.Seawalk.Phase.2.Prelim.Design.Plans.pdf 
06. 11.30.2022.SITKA SEAWALK-Phase 2-PUBLIC MEETING slide presentation.pdf